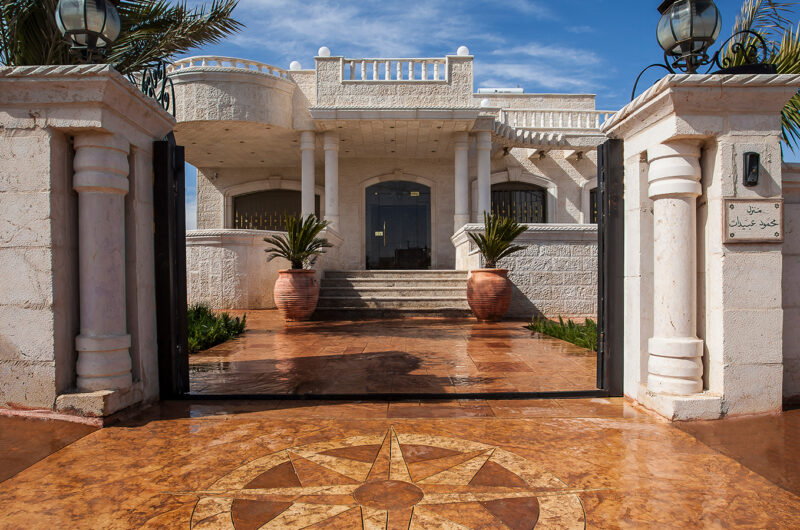 One of the more popular ways of giving floors a unique and eye-catching treatment is through stamped concrete. This process involves placing slab concrete for usually outdoor areas like patios, driveways, and walkways, after which textures and patterns are impressed into the concrete before it becomes fully dry.
Ashlar Stamp Concrete Matts
This method of adding decorative elements to floors started decades ago, bit in a simpler form, where the design "stamps" on the concrete were actually just duplicated and redundant patterns. However, the newer "stamps" have more varied patterns and textures, with surfaces getting more creative, as brick, seashells, cobblestones, and even wood, among others can now be replicated. Moreover, current varieties of this type of flooring treatment now have pigments so that the look of the surfaces mentioned earlier can really be replicated.
The main concern about materials such as pavement stones, brick, and cobbles do look great in outdoor floors, but since they are pieces that interlock, there may be gaps or very small spaces in between these pieces, which are susceptible to things like growth of moss, weeds, as well as places where frost and moisture can stay, and cause damage. Sometimes these factors can be good, as they're supposed to lend the floor a more natural, rustic look. But then, if the space where these materials are placed is supposed to be flat and level, you would like the floor's surface to be the same way. With concrete, there would be no gaps, space or cracks in it.
In a stamped concrete floor, the "cracks" are only impressions that are only surface-deep. Moreover, in the placing of concrete, there would be reinforcing rods which aids in maintaining the integrity, cohesiveness, strength and stability of the floor. As for patterns and colors, the selection is based on which designs and hues would complement the other elements of the space surrounding the floor. The designs can be as complicated as including courtyards and steps when they are pressed into the concrete.
The concrete can also be used with other kinds of concrete flooring elements like exposed aggregate and staining, coupled with patterns like hexagonal tile, bricks or stones or rock. Stamping concrete and applying it is not really recommended as a DIY project. Laying concrete and treating it to stamping is a precise yet artful process. Special tools and an expertise are needed to accomplish this. First, reinforcement steel is placed in the area where the concrete will be applied. The concrete which should be no less than four inches thick should be poured on the area
The surface would then need to be evened out by means of a trowel. Allow the concrete to set before adding Deco Top 250, a dry shake colored floor hardener and Deco release powder, two implements which should perfectly set the concrete for stamping. When these two ingredients have set, stamps may now be used to make the designs and textures on the concrete. Then, clear sealing compound should be applied over the surface. Allow sufficient time for drying before the floor can be available for use.
Ashlar Patterns
Grand Ashlar
Regal Ashlar
Rough Cut Ashlar
Lumber Patterns
Lumber
Stone Patterns
Cobble Stone
Pennsylvania Stone
Herringbone Stone
Fan Patterns
European Fan
Danish Fan
Skin Patterns
Rough Skin
Soft Skin
Stamped Concrete Patterns
Garden Stone
Randon Stone